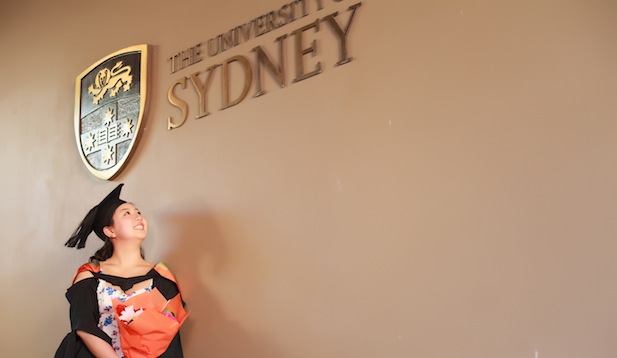 Yun Liu, a Chinese delegate to the 2013 Australia-China Youth Dialogue and this year's University of Sydney China Studies Centre Fellow, has recently been awarded the 2013 University of Sydney John C Harsanyi Medal for International Student Achievement. Established in 2012, the Harsanyi Medal is awarded to honour academic excellence and contribution to the diverse life of the University and the broader community by an international student.
As a recent graduate of the University of Sydney, Yun has left a lasting impression on the University community through her diverse contributions to student life. Keen to enrich the experience of her fellow international students, she took on the position of international student intern at the University of Sydney Union. The role saw her organise an array of events to inspire international students to become more involved in campus activities including Multicultural Night, a pilot program that has since developed into a full Festival. As the vice-president of Unimates, the largest intercultural society on campus, she actively sought out volunteering and mentoring opportunities for international students. Yun served as the Students Representative Council international student officer and was also an international student ambassador in the International Office. In 2012, she was awarded a University of Sydney Union Blue Award for her outstanding contribution to the student community.
Yun combined all this with very strong academic performance, graduating with First Class Honours in Bachelor of International and Global Studies in April 2013. During her Honours year, she completed a 19,000-word thesis on Taiwan's changing economic policymaking towards China Mainland. Her outstanding academic record has brought her many awards, including the 2009 International Merit Scholarship and the 2010 Academic Merit Prize.
Yun's strong interest in international affairs and unique international experiences have also been demonstrated through her diverse working experiences including Lowy Institute for International Policy as an intern, the Office of Vice-Chancellor International Leaders Program as a project assistant and a media intern at China Radio International.