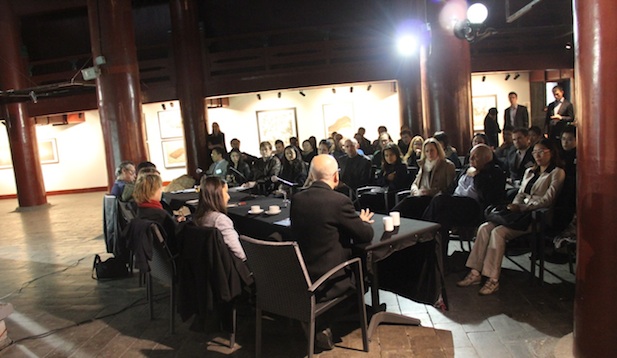 As China continues along the path of modernization, Chinese artists are finding new avenues to express themselves and adding vivid commentary to the rapid changes to life and society. Yet, a dichotomy remains. On one hand, the Chinese art market has become one of the hottest in the world with Chinese cotemporary artists, and Chinese antiques fetching record prices around the world. On the other hand, Chinese architects, designers and creative products are yet to mature and are still finding their voice in the world.
The art and creative industries offer a perfect medium for exchange between Australia and China that has both cultural and commercial outcomes. Through Imagination Australia and The Australia China Council plus other initiatives, recent years have seen a surge in creative engagement and cultural diplomacy between the two nations.
Moreover, as the two countries trade and commercial relationship enters a new phase, Australia's wealth of artistic talent combined with world-class architecture, design, digital, fashion and film etc. service capabilities places Australia in an ideal position to add value and seek new opportunities in China.
The Creative Industry and Arts Session will welcome recognized industry experts to share thoughts and discuss the current ways Australia and China are engaging through art and creative industries, plus explore the future of the bilateral cultural and artistic relationship.
---
Lesley Alway
Director, Arts, Asialink
Lesley Alway is an arts manager with experience in cultural organisations in the government, non-profit and private sectors. Between 2008-2010, Lesley was the Managing Director of Sotheby's Australia. Her previous roles include Director / CEO of Heide Museum of Modern Art in Melbourne, Director of Arts Victoria and Director of Artbank based in Sydney. Lesley's academic qualifications include a BA (Hons) in Fine Arts and BEd from the University of Melbourne, and an MBA from Monash University.
---
Michell Guo
Business Development and Client Manager, HASSELL
Born in Beijing, raised in Melbourne and educated at both The University of Melbourne and Tsinghua University, Michell Guo is a registered architect in Australia. After spending eight years working in Melbourne with one of Australia's largest multi-disciplinary design studios - HASSELL, Michell has recently moved back to China into a Business Development and Client Manager role for HASSELL's Beijing Studio.
Michell is bilingual and bi-cultural, her mixed background and experience gives her an innate ability to bridge between cultures; her in-depth understanding and sensitivity to both the eastern and western cultures often brings valuable insights to company and clients, making her an important link in many liaisons.
---
Paul LACY
Co-Founder & CEO, kikki.K
As Co-founder and CEO of international Swedish design retailer kikki.K, Paul along with his Swedish born partner Kristina Karlsson has led the rapid growth and success since its start-up – from zero to 80 stores across Australia, New Zealand & Singapore, now employing a Team of over 600 people, selling online to over 74 countries and expanding globally.
For anyone unfamiliar, kikki.K is a multi-award winning boutique retail stationery & design concept presenting a Swedish-designed range of contemporary home & stationery products & unique gifts. The business has grown at a phenomenal rate in its first 12 years and was recently nominated for the Innovation Award in the Oracle World Retail Awards.
Paul has driven the development of kikki.K from a simple idea they had to its current position as a successful and growing international retailer, but according to Paul, his most successful achievement has been having the courage to 'sell the house' and follow a dream...
---
Graeme LEWSEY
CEO of L'Oreal Melbourne Fashion Festival 
In May 2011, the Melbourne Fashion Festival appointed Graeme Lewsey to the newly created role of Chief Executive Officer. Graeme led the Festival and its world class team to new heights achieving outstanding results for the 2012 and 2013 Festivals.
Graeme is a proud Melburnian and after graduating from his BA at RMIT University he was awarded 'Australian Young Designer of The Year' by Woolmark which was followed by a decade of work with leading fashion brands and marketing agencies overseas.
Returning to Australia in 1997, Graeme was involved in the development of 'Australian Fashion Week' and subsequently joined the global team at IMG as a Senior Executive for the Asia Pacific region and was instrumental in the establishment of a range of events including the 'Singapore Fashion Festival', 'Hong Kong Luxury Week' and the 'Sydney Fashion Festival'.
Graeme brings unparalleled event management, marketing and international industry experience to the Festival and his appointment has further enhanced the success of the Melbourne Fashion Festival and complements its high profile Board of Directors.
Suggested websites:
Beijing's Red Gate Gallery: http://www.redgategallery.com/
Creative Australia – National Cultural Policy: http://creativeaustralia.arts.gov.au/executive-summary/
Australian Arts in Asia Awards: http://arts.gov.au/funding-support/awards/australian-arts-asia-awards
Imagine Australia: https://imagineaustralia.net/en/